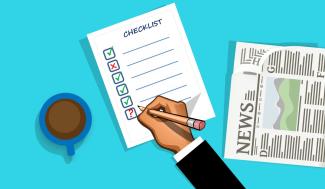 Quarantine Checklist For Your Personal Finances
Our everyday lives have certainly taken an unexpected turn due to the COVID-19 pandemic. With most of us spending a lot more time at home, an opportunity has opened to spend some extra time reviewing our personal finances and taking care of some tasks that we mean to get around to but do not normally have time. Below is a handy list of financial to-dos' that you can check off the list while quarantined:
Clean Up Financial Records
Over the years, it is very likely that documents have piled up and you may not be sure of what to keep or what to discard. As this pile grows, it can get more intimidating to work on this task. Eventually, this will need to be sorted and now may be a good time to clear up any financial clutter. Our previous blog about this topic can help you get started.
Review Your Current Financial Standing
Cash flows could be affected during these times. Are you still in a good position? Does your emergency fund still provide a sufficient cushion? There are several financial ratios that can help you determine if you are still in a stable position. Details about these ratios can be found here in a previous blog post about this topic.
Review Your Beneficiary Designations
Do you know who stands to inherit your assets? Reviewing and updating (if needed) beneficiary designations can be completed quickly. This can ensure that a major portion of your estate plan is up to date. You should review and update all employer-based retirement plan accounts (401k, 403b, etc.) as well as IRAs/Roth IRAs and any life insurance beneficiary designations.
Review Your Insurance Coverage
Not only will you be able to determine if your current coverage is still sufficient but perhaps now might be a good time shop around for better deals on your current coverage.
Additionally, as part of your insurance coverage review, you should take inventory of everything in your home. In the event you would have to file an insurance claim, having well-documented inventory records can help the claim process go smoothly. With the use of video technology in our pockets, a short video of the contents of each room in your home is easy enough.
Acquire an Updated Social Security Benefits Statement
Working individuals may get the most benefit from a Social Security statement. You should review your online statement to ensure that your earnings history records are accurately reflected as well as getting a glimpse into what your potential benefit may look like when you file for Social Security. Individuals who do not have an online social security account can get started here. Existing account holders can sign-in here.
Review Credit Reports
Every individual is entitled to one free credit report per credit company (Equifax, Experian, TransUnion) per every 12-month period. You can request a free credit report once every four months by rotating which company you request it from. Reviewing & monitoring your credit report is a great way to ensure that no suspicious activity is occurring. You can get started by clicking here to request your free report.
Stop Unsolicited Mail, Phone Calls, and E-mail
Nobody likes having to open a mailbox filled with pre-approved credit card applications or telemarketers bugging you constantly. Thankfully, the FTC provides an opt-out service to stop this constant flow of unsolicited products. Visit FTC's website to learn more about this service.
Conclusion
While we should all try our best to remain optimistic about the current situation, this pandemic has created some opportunities to help us improve financially going forward. You should also consider consulting with a financial advisor during this time to get an in-depth understanding about where you are and what you want to accomplish.
Weingarten Associates is an independent, fee-only Registered Investment Advisor in Lawrenceville, New Jersey serving Princeton, NJ as well as the Greater Mercer County/Bucks County region. We make a difference in the lives of our clients by providing them with exceptional financial planning, investment management, and tax advice.