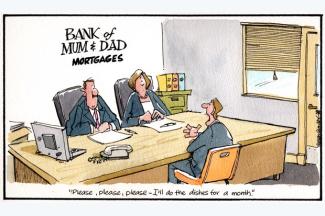 Pre-approved 0% interest loans, no overdraft fees, no account minimums, quicker access than an ATM, and a seemingly guaranteed income stream. These are just some of the great benefits of opening an account in the Bank of Parents. Once a child hits a certain age, they are no longer eligible for these benefits. At which point, they will have to open a normal bank account and join the rest of us.
It is never too early to encourage great financial behavior in children. However, this is easier said than done. They should have the freedom to make their own financial decisions to a certain extent.  As parents, we can have guardrails in place so that if financial mistakes are made, they are relatively harmless (i.e. spending an entire allowance or losing a debit card).
Luckily, there are apps out there that allow parents to keep track of budgets, incentivize saving, and foster financial responsibility.   Here are just a few examples:
FamZoo – This app allows parents oversee their children's saving and budgeting behavior. FamZoo functions as virtual family central bank where different rules and restrictions can be implemented. Saving is encouraged in a similar manner to how 401(k)'s are structured. For every dollar the child puts in, the parent can match a certain percentage of it in the form of interest.
Current – This app has a similar structure like FamZoo, however, this is geared more towards teenagers, whom as we all know, want more independence. A debit card is issued to them and through the app, they can create their own savings goals and track their expenses. Parents can monitor any activity through notifications on their phone. Allowances and restrictions can be setup so that nothing gets too out of control. In the event that their debit card gets stolen or lost, the parent can easily disable it with the touch of a button.
Chore Check – This app incentivizes both the child and parent to complete chores/work and be compensated for it. The parent can allocate a percentage of this "pay" to into buckets of spending, saving, and charitable donations. The free version allows a family to create logins for each family member in which they can check-off chores and allocate allowances to spending & saving buckets. The paid version comes with reloadable cards in which activity, purchases, and transfers can be monitored on the parents' behalf.
The simplicity of the Piggy Bank model doesn't do the job of cultivating financial responsibility as effectively as it used to. Of course, the savings component of a traditional Piggy Bank is a tried-and-true benefit, but if you picture an actual piggy bank, it's difficult to track how much is being saved until it is finally cracked open. Having a trail of expenses and savings on one's accounts at any point in time goes a long way for anyone, not just children, when developing or improving financial responsibility. Apps such the ones above can help get children started on the right path towards consistent and mindful habits.
Disclosure: Weingarten Associates in no way endorses any of the apps mentioned in this post. Please ensure you do your own due diligence to determine if any of them are right for you and your family!