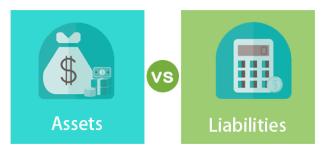 Retirement Planning Considerations Part 3: Assets & Liabilities
As part of our 4-part blog series (click to read Part 1 and Part 2), we went over common considerations and questions to ask yourself when planning for retirement.  In this blog, we will go over some common factors that your assets & liabilities play into when planning for retirement
Assets & Liabilities Considerations:
Current vs Future Investment Allocation:

As you approach retirement, the thought of transitioning into a more conservative investment allocation may be more appealing, and rightfully so. Taking on more risk than you need may grow your nest egg, but it can also reduce your chances of a successful retirement if is dealt with a serious blow. Understanding what your appetite for risk is now and what it will be later can provide a clear picture of what your expectations for your investments and their expected returns will be.

Stock Options, Stock Grants, ESOPs, Restricted Stock Units:

Typically, these employee benefits are on a set vesting schedule before they are 100% yours. Tax planning and cash flow planning will be needed to figure out what to do when you have complete ownership.

Exit Strategies or Succession Plans for Business-Owners:

There are various scenarios for a business owner to consider. Depending on one's intention for the business when approaching retirement, in-depth planning is needed to help ensure a successful transition.

Moving to a New Home:

Do you intend to move to a smaller home or a different state/country? Moving during retirement is a huge step, not just financially but emotionally. Planning out the logistics if this is your intention can make the transition much smoother.

Annuities and Other Illiquid Assets:

If you own an annuity and are considering a payout option, scenario planning can help understand how these payout options fit together with your other sources of retirement income.

Simplifying Accounts:

Over the span of you career, you may have a couple of retirement accounts - 401(k)s, 403(b)s, IRA, etc. Depending on your situation, it may make sense to rollover some of the accounts into one. There are a few reasons why you should leave things where they are, which we cover in a blog here.

Liabilities:

Will you still have liabilities during your retirement years? While the financial aspect of having liabilities in retirement is important to consider, there is also the psychological factor that you should consider. Do you want to have liabilities during retirement or will you be okay with liabilities during retirement?
Planning around assets & liabilities is a very unique area with no cookie-cutter answer as this is the largest source of your retirement funding. Seeking advice from a fee-only financial advisor around this and all other planning areas can only better prepare you for a comfortable retirement.
In Part 4, we will go over guidelines to consider for your Tax Planning, Long-Term Planning, and Other Considerations.
Weingarten Associates is an independent, fee-only Registered Investment Advisor in Lawrenceville, New Jersey serving Princeton, NJ as well as the Greater Mercer County/Bucks County region. We make a difference in the lives of our clients by providing them with exceptional financial planning, investment management, and tax advice.