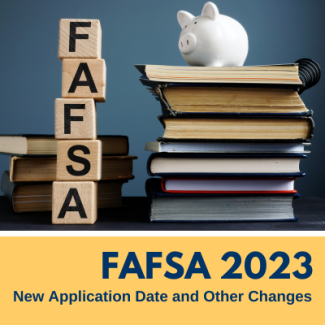 New FAFSA Form: What Changes to Expect
Enacted into law back in 2021, the FAFSA Simplification Act set into motion major changes starting with the 2024-2025 academic year when filing the Free Application for Federal Student Aid. (More on the basics of this form can be found in our earlier blog.) Here will go over the changes that may affect you if you are filing an application.
Fewer Questions
The old FAFSA application contained 108 questions whereas this new application will reduce this to 36 questions. In addition, it is expected the wording of these questions will make it easier to understand how to report financial assets, thus potentially reducing the need to require help from a financial aid officer or school counselor.
Delayed Open Application Date
In the past, the application became available to complete on October 1st of every year. However, to roll out these new changes, (e.g., software updates and staff training), the application release date has been pushed back to December 1st. As a result, this will place a narrower time constraint on families looking to complete an application. It is still recommended to file as soon as possible to improve the chances of receiving aid.
New Affordability Calculation
The old application used the Expected Family Contribution (EFC) to help determine how much aid a student will receive. (A simple breakdown of how financial aid is calculated is the following: School's Cost of Attendance – EFC = Financial Aid Award.) The term itself was misleading as it not exclusively a set dollar amount that parents will have to pay out-of-pocket but rather metrics of personal and financial aspects of a household to estimate the ability to pay for school. Going forward, the EFC will be replaced by the Student Aid Index (SAI). A couple of the major changes with the SAI are:
New Minimum Calculation:

In the past, the EFC could not be less than $0. With the new changes, the SAI can be as low as -$1,500. Because this negative figure establishes a greater need, it can help schools precisely target federal campus-based aid for low-income students. While the exact impact on aid is still unknown, families can expect to receive additional aid.

Sibling Discounts:

Going forward, families will no longer receive split discounts for multiple children attending college at the same time. Unfortunately, this may result in lower financial aid awards going forward. For instance, if the EFC under the old application was determined to be $20,000 and there are two students in college, the $20,000 would be split between both students. The calculation would be the following:

Student #1: Cost of Attendance - $10,000 = Financial Aid Awarded

Student #2: Cost of Attendance - $10,000 = Financial Aid Awarded

Under the SAI calculation, the same $20,000 would apply for each student, thus lowering the potential financial aid award. The new calculation would be the following:

Student #1: Cost of Attendance - $20,000 = Financial Aid Awarded
Student #2: Cost of Attendance - $20,000 = Financial Aid Awarded
Changes to Pell Grants
One of the largest sources of financial aid is in the form of Pell Grants. Going forward, the maximum amount will be increased as well as changing how the Pell Grant itself is calculated. This will consider the SAI amount as well as the applicant's adjusted gross income (AGI). Below is a summary of what to expect:
Grandparent-Owned 529 Plans
Under the old application rules, if distributions were made from a grandparent's 529 account for the student's benefit, the distributions would be counted as the student's income when determining the EFC. As a result, this would reduce the amount of financial aid awards. Going forward, these types of distributions will not be included. Instead, student income will be pulled from tax return data. (More information about this rule can be found in our earlier blog.)
Conclusion
With major changes coming later in the year, it is highly recommended to prepare financial and personal documents to file as soon as possible once the application is made available. Consulting with a fee-only financial advisor can help you navigate this new process.