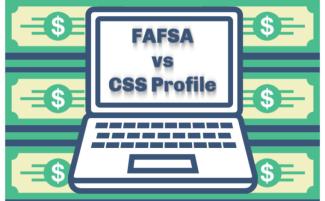 FAFSA vs CSS Profile: What Are the Differences?
Both the Free Application for Federal Student Aid (FAFSA) and the College Scholarship Service (CSS) Profile are two extensive applications that are required by many colleges to determine financial aid. While both applications are used to determine need-based financial aid, there are some variations between each of their application structures. (It should be noted that merit aid is a recognition of a student's academics/extracurriculars. Many schools award merit aid, but merit aid is separate from need-based financial aid and goes beyond the scope of this blog post.)
Here we will go over some of the varying factors of each:
FAFSA
On October 1st of every year, the application period opens for the following academic year. It is strongly recommended that the FAFSA be completed as soon as possible as it can help maximize the amount of aid awarded. In addition, financial aid, on a state level, is awarded on a first come, first serve basis. Additional information regarding filing deadlines on the state level can be found here.
Below is a schedule of Federal dates and deadlines to keep in mind:

Maneuvering through the application itself can be quite tricky if one does not know where to start. In simple terms, the way financial aid is determined is by the following formula:
Cost of Attendance – Expected Family Contribution = Financial Aid
The calculation, planning, and complexity of the Expected Family Contribution are where mistakes can be encountered. Below is a useful infographic to understand the process:
CSS Profile
Unlike the FAFSA, which is administered by the Dept of Education, the CSS Profile is a private application administered by the College Board. Chances are if a student has taken the SAT, they may already have a College Board account setup to get started with this application. (You can create a profile via this link if you have not done so.)
What makes the CSS Profile application different are the following:
Helps colleges determine how much non-federal aid you may need.

Additional financial information is likely to be required. Whereas the FAFSA normally requires basic income and tax documents, the CSS Profile may require bank statements, divorced parent's income, medical expense statements, etc.

The CSS Profile is only available for participating institutions. Each school can tweak its CSS Profile application to add specific questions that will determine how much aid they can provide.
While the Open Enrollment date for the CSS Profile is also on October 1st of each year, their deadlines vary from school to school. Most schools have deadlines between January 1st – March 31st, though it is highly recommended to complete this application as soon as possible. In some cases, there may be follow-up instructions after the CSS Profile is submitted. One should check back often in the College Board site to review any necessary actions or updates.
Conclusion
Generally, you should apply for as much aid as possible as early as possible. Factors such as high income or too many assets can reduce the amount of awarded, but it may still be worthwhile going through the process. (If your student is fortunate enough to receive merit aid, the award could be increased simply by completing the FAFSA!) Consulting with a college planning professional or fee-only financial planner can go a long way if additional planning is required.
Weingarten Associates is an independent, fee-only Registered Investment Advisor in Lawrenceville, New Jersey serving Princeton, NJ as well as the Greater Mercer County/Bucks County region. We make a difference in the lives of our clients by providing them with exceptional financial planning, investment management, and tax advice.