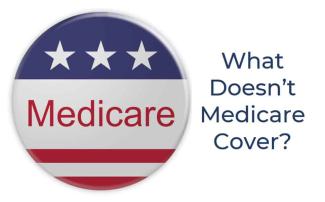 Medicare Coverage: What is Not Covered
Traditional Medicare (Part A and Part B) will cover a wide range of medical expenses, in which each part addresses different types of expenses (Part A – Hospital Insurance, Part B – Medical Insurance). As widely accepted as it may be, traditional Medicare coverage has some considerable gaps in coverage. Supplemental policies such as Part D – Prescription Drugs, Medicare Advantage (aka Part C), and Medigap policies (designed to cover the gap of Parts A & B via private insurance), can help address your coverage deficiencies.
With the Medicare enrollment period now open, changes can be made to your coverage. Below are major medical expenses that are not covered by Medicare that should factor into your overall coverage package:
Long-Term Care
One of the biggest expenses a retiree may experience is the cost of long-term care. While Medicare can cover up to 100 days of skilled nursing facility costs (of which the first 20 days are fully covered), any expenses beyond this period will need to be fully covered by you. With long-term care expenses rising more and more, acquiring a long-term care policy should be a considered as an option. Details on long-term care and choosing the type of care can be found in an earlier blog here.
Dental Care
Medicare does not provide coverage for routine dental visits, cleanings, dentures, or tooth extractions. There are Medicare Advantage plans available which can cover these costs, however, there is typically a low annual cap of coverage - $1,500, leaving the rest to be covered out-of-pocket. Depending on your situation, a Medicare Advantage plan will suffice (find what options are available for you here).
While there are options for private dental insurance policies to address a coverage gap, the underlying premiums of these types of policies tend to be more expensive than the benefits they provide.
Routine Eye Exams
Just like dental care, traditional Medicare does very little to cover vision care, e.g. routine eye exams or glasses. Medicare Advantage plans can typically cover most of your vision care needs.
Hearing Aids
With hearing aids costing as much as $3,000 per ear, not having Medicare coverage can burn a hole in your pocket. Medicare Advantage plans can also help with these coverage gaps. The Hearing Loss Association of America is great online source that can help you understand your options.
Conclusion
Traditional Medicare in conjunction with supplemental policies has the potential to cover many of your healthcare needs. While the list above is a broad overview, Medicare.gov provides a comprehensive booklet along with a search bar to help you narrow down is and is not covered. Consulting with a fee-only financial advisor can also help address your Medicare planning needs.
Weingarten Associates is an independent, fee-only Registered Investment Advisor in Lawrenceville, New Jersey serving Princeton, NJ as well as the Greater Mercer County/Bucks County region. We make a difference in the lives of our clients by providing them with exceptional financial planning, investment management, and tax advice.