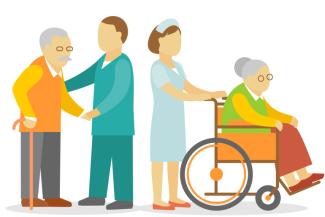 Choosing a Long-Term Care Facility
Disclaimer: The older you are, the more relevant the post will be. On the flip side, the younger you are, the less relevant it will be!
Moving into a long-term care facility can seem like a challenging process. From the costs to the actual move, there is a lot that goes into this. If properly covered, the cost of a facility should not be a major issue nor should the actual move, albeit stressful as any move ever is. Picking the right facility is, however, something that requires some consideration and potentially some professional help.
Here are a few items to consider when searching for the right facility:
Starting the Search
The Medicare.gov website provides a search-and-comparison tool which can aid narrowing down which facility may be right for you through their rating system. In addition, you can check if these facilities have been in any trouble in the past.
Touring a Facility
While plenty of information can be gathered online, it is highly recommended that a tour of any prospective facility be taken twice. The first tour should be to speak with an administrator and to ask any questions related to your needs. The second tour should be a spontaneous visit in order to get an idea of how the facility runs as some facilities may inflate themselves if they anticipate an appointment tour.
What to Ask
When touring a facility, you may be so focused on the actual tour itself that some questions are left unasked. Below are a few checklists with questions of what to ask for each type of facility.
While there is a myriad of other things to consider when moving a long-term care facility, one should not be left in the dark about the information available to make an informed decision. Speaking with your financial planner is another valuable resource to help guide you during this process. Finally, you may consider hiring a geriatric care manager to help with this process. You can research more information about finding a care manager here.
Weingarten Associates is an independent, fee-only Registered Investment Advisor in Lawrenceville, New Jersey serving Princeton, NJ as well as the Greater Mercer County/Bucks County region. We make a difference in the lives of our clients by providing them with exceptional financial planning, investment management, and tax advice.