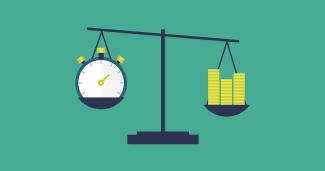 Financial Trade-Offs: Choices Between Time and Money
In this age of DIY investing and financial planning, it may be possible to handle personal finances on your own, but at what cost? While the monetary cost may be minimal, the time you spend navigating through all of Google, financial newsletters, research, etc. can be daunting. Even if you spend all this time and effort, you may not arrive at the answer that best suits your situation. Here are some of the common financial trade-offs that many DIY-ers spend too much time arriving at a conclusion:
Risk & Return
It is a given that the more risk you take, the higher the expected return. What is often not seen in most media outlets is the question of how much risk you are willing to take. Understanding your risk capacity and having a discussion around this can save you a lot of time and effort to develop a well-diversified portfolio.
Financial Goals
Everyone has financial goals: retirement, buying a home, buying a car, paying for college, etc., but how do you know which one to prioritize? In most cases, the obvious first choice is retirement. The tricky part is figuring out the second priority and beyond.
Saving vs Paying Debt
There are many reasons that argue for paying down debt first before saving and vice versa. As a result, it quickly becomes an emotional decision when picking whether to save or pay off debt. Many individuals simply do not want debt and will primarily focus on this. On the other hand, others may want to focus primarily on returns.
Retiring Now or Later
Delaying retirement will give you a greater chance of making your savings last as long as possible. A potential downside of this is a shorter retirement, which means spending more time in the office (unless you enjoy your work). On the other hand, retiring early can introduce some uncertainty into your retirement and whether you will have enough.
Spending More in Retirement vs Leaving Bequests
For those who are inclined to leave something behind to their heirs or charities, a careful balance needs to be considered between how much you can enjoy your wealth now and how much will be left to the estate. Emotions are likely at the forefront of this decisions with no easy answer.
Conclusion
While there are many more financial trade-offs beyond this list, one of the biggest decisions is whether you want to do this yourself or not. Many individuals can make emotional financial decisions when attempting to go about it on their own. A well-defined financial plan, with a fee-only financial advisor on your side can save you plenty of time when trying to decide the best path forward.
Weingarten Associates is an independent, fee-only Registered Investment Advisor in Lawrenceville, New Jersey serving Princeton, NJ as well as the Greater Mercer County/Bucks County region. We make a difference in the lives of our clients by providing them with exceptional financial planning, investment management, and tax advice.