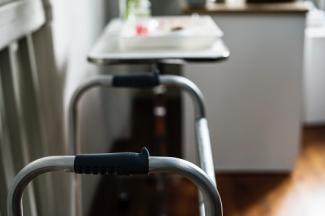 While many of us actively plan for retirement, only a small fraction of American workers actively plan for the possibility of becoming disabled. Before you decline to purchase a short-term or long-term disability plan, consider some of these facts:
More than 375,000 Americans become totally disabled each year. While that may not sound like a lot, if you're one of those 375,000, the results can be catastrophic.
Nearly 8 million adults currently deal with some form of disability that prevents them from working or limits the amount or type of work that they can perform.
Approximately one in seven Americans between the ages of 35-65 will become disabled for at least five years (or longer.)
The odds of becoming disabled vary with age; leveling off by the age of 60, so a 30-year-old has a 1 in 3 chance of becoming disabled, a 40-year-old has a 3 in 10 chance, and a 50-year-old a 5 in 22 chance of becoming disabled.
Nearly 50 percent of foreclosures are caused by a homeowner becoming disabled.
Compared to other types of insurance, long-term disability premiums can be affordable, with your monthly premium determined by many factors, including your current yearly salary, your waiting period to receive benefits after becoming disabled, and your benefit period.
When purchasing disability insurance, you can choose whether to extend benefits for a set number of years or until normal retirement age.
Disability insurance typically pays at around 60% of the insured's current salary, so that if you're earning $60,000 annually, if you become disabled, you would receive $36,000 annually, or $3,000 monthly.
If in the market for a disability policy, you can choose to purchase a guaranteed renewable policy with a non-cancellable provision which means that your policy can never be cancelled, no matter the reason, as long as you continue to pay your premium on time, while non-cancellable means that premium rates will never increase, as long as the policy remains valid.
There are legal protections in place for those disabled, including, The Americans with Disabilities Act (ADA), enacted in 1990. The ADA works to prevent private, state, and local governments from discriminating against qualified individuals during the hiring and firing process, when determining compensation, and when offering job training opportunities. Another form of protection is The Family and Medical Leave Act (FMLA) enacted in 1993, which provides employees with the ability to take family or medical leave without fear of losing their job, fear of being demoted, or fear of losing their medical benefits. While employers are not required to provide paid leave, they are required to provide the employee with the same or similar job when they return from leave. Only businesses with more than 50 employees are required to offer FMLA protection to their employees. In turn, employees must work at least 1,250 hours in a calendar year in order to eligible for FMLA leave.
While no one expects to become disabled, whether temporarily, or permanently, having the resources in place in the event of a disability will provide you with financial stability when you need it.  
Resources
https://www.workplacefairness.org/disability-leave
https://www.affordableinsuranceprotection.com/disability_facts
*This content is developed from sources believed to be providing accurate information. The information provided is not written or intended as tax or legal advice and may not be relied on for purposes of avoiding any Federal tax penalties. Individuals are encouraged to seek advice from their own tax or legal counsel. Individuals involved in the estate planning process should work with an estate planning team, including their own personal legal or tax counsel. Neither the information presented nor any opinion expressed constitutes a representation by us of a specific investment or the purchase or sale of any securities. Asset allocation and diversification do not ensure a profit or protect against loss in declining markets. This material was developed and produced by Advisor Websites to provide information on a topic that may be of interest. Copyright 2023 Advisor Websites.