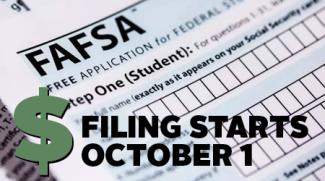 What to Know About the FAFSA Open Application Date
Whether your child will soon be commencing their freshman year of college or is currently in college, filling out the FAFSA (Free Application for Federal Student Aid) is an important decision to make in regards to college planning.
What is the FAFSA?
The FAFSA form is the only way in which the Federal Government, State Government, Colleges and other organizations use to award financial aid. The schools listed on the application (up to 10 schools can be listed when applying) combined with other information will be used to evaluate the student's financial need and determine the eligibility for financial aid. With increasing tuition, filling out the FAFSA may be the way to go as the possible financial aid award can help offset paying out-of-pocket tuition expenses.
(It should be noted that households with high income and financial resources to cover education expenses should not dismiss the FAFSA so quickly. There may be benefits to filling out the FAFSA, however, a further discussion, beyond the scope of this blog, will be required.)
There are three types of financial aid available through the FAFSA:
Grants

– Free money that does not have to be repaid

Student Loans

– Financing options provided by the Federal government through the Dept. of Education. Several types of student loan programs are available, however, eligibility for some student loans are highly dependent on one's education planning situation. Factors, such as high income or a low expected family contribution, can affect the financial aid reward.

Work Study

– The Federal government provides funding to over 3,400 colleges to employ students on a part-time basis to help offset college costs. If one is considering this as a pathway, it is highly recommended that the FAFSA be filled out as soon as possible as funds for this type of aid is on a first come, first served basis.
How to Apply
On October 1st of every year, the application period opens for the following academic year. It is strongly recommended that the FAFSA be completed as soon as possible as it can help maximize the amount of aid awarded. In addition, financial aid, on a state level, are awarded on a first come, first serve basis. Additional information regarding filing deadlines on the state level can be found here.
Below is a schedule of Federal dates and deadlines to keep in mind:
Maneuvering through the application itself can be quite tricky if one does not know where to start. In simple terms, the way one's financial aid is determined is by the following formula:
Cost of Attendance – Expected Family Contribution = Financial Aid
The calculation, planning, and complexity of the Expected Family Contribution are where mistakes can be encountered. Below is a useful infographic to understand the process:
Given that every family's college planning situations are different, circumstances can change if and how the form should be filled out. Speaking to a college planning professional or a financial planner can help significantly if additional planning is required.
Weingarten Associates is an independent, fee-only Registered Investment Advisor in Lawrenceville, New Jersey serving Princeton, NJ as well as the Greater Mercer County/Bucks County region. We make a difference in the lives of our clients by providing them with exceptional financial planning, investment management, and tax advice.