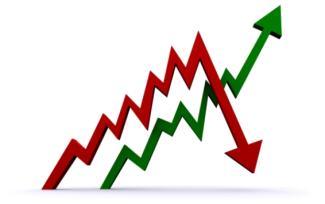 What to Do When Market Volatility Strikes
The news recently has been filled with concerns about the Coronavirus, the impact on the global economy, and now the volatility in the stock market. For those of us in the financial services world, market volatility is nothing new. How people react to this volatility is also nothing new.
Many people unfortunately feel they need to do 'something' when the market starts going down. Until recently it seemed the market could go no place but up. It was only two weeks ago when we were hitting new highs. As of this writing, we are down more than 13% from those highs. The question is this: did you feel you needed to do 'something' when the market was hitting new highs? If not, why would you need to do something now? Of course, it is certainly natural to feel anxious when the market moves down rather precipitously but acting now due to recent market activity is potentially a recipe for a bad investment outcome.
How can you have a good investment experience? As our clients know, having a written financial plan AND a written investment policy statement anticipates the exact type of market volatility we are seeing in the stock market. Knowing what you will do in advance of market declines can help with managing one's emotions during what for many would be stressful times. In fact, when the market drops enough, our written client plans call for us to start buying equities again. Think of it this way: if stocks fall 20% or more you get to buy them when they have gone on sale! Who does not like buying things when they go on sale? Hence, for us and many of our clients, we embrace this type of market volatility because in the long run we get to add to our portfolios with positions that are temporarily on sale.
The idea of selling after the market has fallen goes completely against sound financial management. Some people would say you have two choices after the market has fallen: 1) Sell and lock in the losses, or 2) Hold on and ride it out. I would argue there is only one choice and that is to hold on. If you are thinking about selling, then you probably did not have a financial plan in place before you invested your money. If you do not have a financial plan in place and you are feeling nervous about the markets, then we encourage you to reach out so we can get to work on a proper plan for you.
I should end by saying that I hope the hype of the Coronavirus is overblown and no one reading this is personally impacted. No one wants to suffer or see a loved one suffer from any type of health issue.
Weingarten Associates is an independent, fee-only Registered Investment Advisor in Lawrenceville, New Jersey serving Princeton, NJ as well as the Greater Mercer County/Bucks County region. We make a difference in the lives of our clients by providing them with exceptional financial planning, investment management, and tax advice.