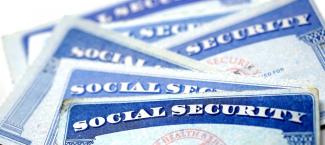 Social Security Benefits Fraud: What to Look Out For
As we move more into a cyber-centric world, so to comes the likelihood of fraud. Protecting oneself against these attempts requires constant vigilance. Social security numbers, which are the gateway for most pieces of online information, are typically what scammers go after first. Should one's personal information be compromised, the damage that can be done can be severe and possibly irreversible.
Social Security benefits fraud can be quite damaging if someone manages to gain access to a social security number. One instance of fraud is if you are already receiving benefits, someone with access to your Social Security online account would be able to login and change direct-deposit information. Another way in which benefits fraud can occur is if someone files for benefits without your knowledge. For example, if your plan was to file at age 70 and a scammer logs in and file for benefits when you are 62, this irreversible decision made can do a lot of damage to your retirement cash flows.
While the SSA has taken action and put guardrails in place to prevent fraud, the threat of fraud has not been eliminated. Below are the main ways in which fraud can occur:
Unsolicited Calls from the SSA – This is usually the go-to method for criminals to acquire your information. They may call you claiming benefits may be lost or suspended unless personal information is verified. To make this seem more legitimate, spoofing technology can trick your caller ID and make it look like the call comes from the SSA's Customer Service line.
Phishing – E-mails may be sent out claiming to provide you with a free monitoring service to prevent fraud. Within the e-mail, a link may be provided which will then ask for your personal information.
Some precautions you can take are:
Login to your online Social Security account at least once a month to check for any unusual signs.

Install robocall-blocker apps on your phone. Some apps to consider are: Nomorobo, Hiya Caller ID and Block, RoboKiller, and Trucaller. While some of these apps are a paid service, they are widely regarded as the best apps on the markets to prevent unsolicited calls.

If an e-mail is received claiming to be from the SSA, ensure that whatever link that is attached ends with ".gov". Anything other than this will be an attempt at fraud.

If you are unsure whether the call being made is legitimate, hang up and call the Social Security Customer Service Line yourself to ensure you are speaking with a genuine representative.

If you are being targeted or would like to file a report, you may do so online at the SSA's Office of the Inspector General (https://oig.ssa.gov/report) or by calling 1-800-269-0271.
While the examples above are not a complete list of instances in which fraud may emerge, the most important step you can take now is to remain vigilant.
Weingarten Associates is an independent, fee-only Registered Investment Advisor in Lawrenceville, New Jersey serving Princeton, NJ as well as the Greater Mercer County/Bucks County region. We make a difference in the lives of our clients by providing them with exceptional financial planning, investment management, and tax advice.