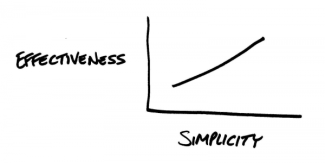 Simplicity is the Ultimate Sophistication
Count the number of apps you have on your phone and imagine if each of them was an account related to your finances. Most of us might have, more or less, two pages of apps. That's at least 48 different accounts. Each with their own login information, user layouts, balances, etc. The password management alone for 48 different accounts is enough to cause frustration.
As the title suggests, simplifying navigation of personal finances by consolidating financial accounts and information is a huge step in decluttering one's digital living space as well as saving you time and money.
Here are several ways one can simplify personal finances:
Investing:
Keep all accounts at one brokerage (e.g. TD Ameritrade, Schwab, Fidelity)
Maintain one IRA and/or one Roth IRA per individual
Maintain one non-retirement account per individual and if married, one joint account.
Rollover old 401(k) into IRAs (There are some exceptions to this)
Insurance:
Property & casualty policies should be purchased through the same carrier
Life Insurance, if additional coverage is needed, should also be through the same carrier (but you should also shop around; do not overpay simply to consolidate!)
Cash Flow & Budgeting:
Maintaining 2-3 credits cards
Opting out of junk mail (Sorting through bills and junk mail is a waste of your time)
Going paperless (Paper statement delivery can cost you and that cost adds up)
Track expenses on a spreadsheet or using a budgeting app
Enrolling in automatic bill-pay
Simplifying financial processes can untangle the mental knot one may have when trying to track down what is located where. Financial clutter can be a block, not only to your mental health but also to your financial goals. Seeing the big picture requires a clear vision.
This post was written by Frank Fernandez of Weingarten Associates. (609-620-1770)