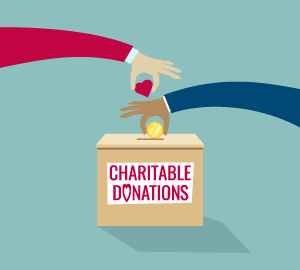 Proper Research on Your Favorite Charities
There are many reasons why one would donate to a charity. Perhaps one has a personal connection with a cause or maybe because it feels good and it is good to give back. Whatever the reason may be, there are many charitable organizations out there. Unfortunately, some can be a wolf in sheep's clothing and will pose as one in order to scam donors. Below are some of the ways where you can verify that an organization is legitimate:
Tax-Exempt Status
The IRS provides a Tax-Exempt Organization search tool where you can search their name to truly verify that they are an actual charity. Click on the following link to go to the search tool (https://apps.irs.gov/app/eos/).
Use of Funds
For most charitable organizations, donations received are used to either: support their services, fund a new project, or added to their endowment. When donating, one should note where exactly the money is being used and if it resonates with your intentions. To find more information, one can check out Charity Navigator (https://www.charitynavigator.org/). This website uses an easy-to-follow rating system to evaluate charities that can help you make an informative decision about a charity's efficacy.
The Charity's Financials
This area does dive into the nitty-gritty details of a charitable organization. A charity's tax return, Form 990, is available for public access. As such, you will be able to certify that they are in a good financial position. More importantly, you can analyze how they have been allocating donated funds. You can find their tax return information by searching their name in the following link (http://foundationcenter.org/find-funding/990-finder).
Organizational Governance
Understanding who is at the top of the organizations, what their backgrounds are, compensation figures, etc. can give you a sense as to how the organization itself will treat yours and many other individuals' donations.
Finally, below is an infographic which details some of the way fraud can occur on an internal level:
One should be vigilant about where donations go to. While doing due diligence on a charity's background requires a little bit of extra work, it should be an important step to take before making a donation. After all, one's good intentions should not be taken advantage of.
Weingarten Associates is an independent, fee-only Registered Investment Advisor in Lawrenceville, New Jersey serving Princeton, NJ as well as the Greater Mercer County/Bucks County region. We make a difference in the lives of our clients by providing them with exceptional financial planning, investment management, and tax advice.