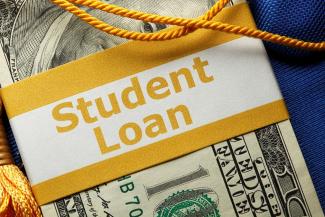 Federal Student Loans: How to Differentiate Each Type
With the Free Application for Federal Student Aid (FAFSA) application date opening up on October 1st, students are given the opportunity to apply for federal loans. Understanding the terms and conditions of the different types of loans can get complicated. Below we will go over the types of federal loans offered by the US Department of Education as well as their loan limits.
Direct Subsidized Loans
This type of loan is available to eligible undergraduate students who qualify for financial need based on the information provided in the FAFSA application. Qualifying for the loan provides the following benefits:
Slightly lower interest rate in comparison to the other loans.

Interest does not accrue while enrolled in school at least half-time.

Repayment is not required if a student is enrolled at least half-time and during a six-month grace period after leaving school.

Eligible for repayment plans in the event of financial distress.

Public Service Loan Forgiveness (PSLF) programs are available if certain conditions are met.
Direct Unsubsidized Loans
Similar to direct subsidized loans, there are two key differences:
Interest does accrue while enrolled at school though no payments have to be made while in school and during the six-month grace period after leaving.

Eligibility is not based on a student's financial need.

Available to undergraduate and graduate students.
Direct PLUS Loans
These loans can be provided to graduate or professional students and parents of dependent undergraduate students to help pay for education expenses not covered by other financial aid. This type of loan may be an option once the maximum loan limits of subsidized and unsubsidized are reached as the interest rate for this type of loan can be high. Notable features of this type of loan are:
Students can borrow only up to the cost of attendance minus any financial aid received.

Credit checks are required. In the event of a less than favorable credit score history, students can still obtain a loan with a co-signer (usually a parent).

Loans are not subject to repayment while enrolled at least half-time and during the six-month grace period but interest does accrue.
Direct Consolidation Loans
Upon leaving school, this option does allow a borrower to combine previous loans taken out into one loan with a fixed interest rate based on the weighted average of the interest rates on the loans being consolidated. While this can make repayment easier by providing a single and potentially lower payment, it may affect Public Service Loan Forgiveness program and potentially disqualify you for forgiveness.
Maximum Limits on Subsidized and Unsubsidized Loans
Conclusion
Navigating through the financial aid and college planning process can get complicated fast. Understanding the basics of federal student loans can give you a general idea of loan repayment expectations after graduating but it is recommended you consult with a fee-only financial advisor to steer you on the best path possible.
Weingarten Associates is an independent, fee-only Registered Investment Advisor in Lawrenceville, New Jersey serving Princeton, NJ as well as the Greater Mercer County/Bucks County region. We make a difference in the lives of our clients by providing them with exceptional financial planning, investment management, and tax advice.