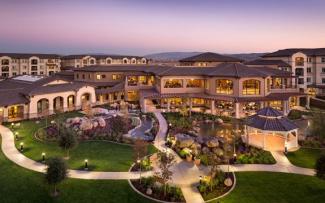 Continuing Care Retirement Communities
A common cash flow concern for retirees is the ability to pay for long-term care if needed later in life. While long-term care insurance policies can cover a large portion of the cost, it may not be an available option if one is denied coverage or cannot afford the premiums.
With enough planning, there is an alternative which may answer the question of how to cover this expense: Continuing Care Retirement Community.
These Communities offer various dimensions of care: from independent housing to assisted living to 24-hour skilled nursing care. They give one the flexibility of moving to a community early, while they are relatively healthy, and allow one to access nursing services later in life as needed.
Below are a few things to know about them:
Financing
There are two costs associated with a CCRC: an entrance fee and a monthly fee.
The entrance fee, which can be steep, ranging from $30,000 to $1 million, varies on certain factors, such as services provided, the type of residence, location etc.
Monthly fees are used to cover continuing costs such as housing and maintenance. While inexpensive in comparison to the entrance fee, they typically range from $500 to $3,000 per month. Just like the entrance fee, this is highly dependent on the individual's needs and service plan (which will be covered in the next section).
Service Plans         
Normally, CCRC's offer three service plans in the form of contracts:
Extensive Contract – The most expensive service plan provides unlimited, guaranteed long-term care, usually with little to no increases in monthly fees. However, the entrance fee will be much higher.
Modified Contract – This service plan specifies the duration of long-term care needs. Should services still be needed after the specified duration, they will still be provided albeit in the form of a higher monthly fee.
Fee-for-Service Contract – This typically offers the lowest entrance and monthly fees, but should one find themselves in need of long-term care, the full value of these services will need to be paid in addition to monthly fees.
It should be said that these contracts may offer options to refund the entrance fee should individuals decide to leave the community or pass away.
What if you have a Long-Term Care Policy?
Most CCRC's will allow one to use Long-Term Care policy benefits to offset any related expenses. In doing so, entrance and monthly fees will typically be lower as contracts are negotiated. Combined with a Fee-for-Service Contract, a Long-Term Care policy can ameliorate cash flows.
When to Move
Because this is a major decision that will affect the rest of one's retirement, extensive planning will have to be done in order to consider whether this is the right move or not. Assuming it is, moving into a CCRC while one is still healthy and independent is generally advisable for a few reasons:
Many CCRC's have waiting lists which can span from months to years to have an available spot. It may be too late to consider a CCRC when care is needed.
While still healthy, one can take advantage of a CCRC's amenities. Most CCRC's offer an extensive list of activities and space to give its residents a high level of autonomy.
If one moves in at an appropriately early age, the financial costs may be less expensive in the long term depending on one's needs.
The decision to move into a CCRC can be a viable option if it fits one's needs. As stated earlier, extensive planning will have to be conducted. Speaking to a lawyer about contract types and a financial planner about cash flow management and options are just a few ways in which one can get started.
Weingarten Associates is an independent, fee-only Registered Investment Advisor in Lawrenceville, New Jersey serving Princeton, NJ as well as the Greater Mercer County/Bucks County region. We make a difference in the lives of our clients by providing them with exceptional financial planning, investment management, and tax advice.